Yesterday I spent the day in the Bayside Middle School library surrounded by books and 26 very keen, very engaged and very kind kids. I began with getting to know them a little bit first,learning their names. Lots of Rileys and lots of Katelyns made for a few mix ups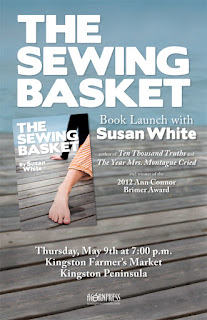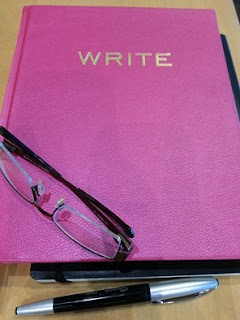 and I mixed up Chase and Grace a couple of times but for the most part I didn't do too badly. Some of the kids were more vocal than others but each and every one of them brought something to the table. The long tables held copies of four of my books they had read and paper which they so willingly wrote their own thoughts and stories on. It was a magical day. We shut out the grey day outside and the frenzy of activity in the halls beyond the library door and concentrated on reading and writing. The kids shared parts of the books that had touched them and I was thrilled as they read passages I had written. The Sewing Basket group were especially vocal and I was so pleased Ruth's story had impacted them as it did.They asked good questions and made insightful observations. They compared and contrasted the four books and discovered slivers of similarity in them. They discussed the emotions, the conflicts,the settings and the characters in each. They shared their own aspirations and listened to mine.They divulged their writing interests and brought their own personalities and experiences to the paper.We discussed the things that keep us from writing and realized the common threads of being too busy,lacking confidence and doubting our own ideas that all writers no matter what age experience. I was completely exhausted, but hugely rewarded and encouraged as I left the building and waited in my car for the long row of buses holding our future to leave so I could go home. What a gift for a writer and former teacher the day was!
Thank you Mr. Laskey and thank you Riley, Rylee, Jeana,Hannah, Sara, Madison, Lydia,Savannah Kate, Taylor,Jackson, Brady, Luke,Mathieu, Kaitlyn, Kaitlyn,Megan,Katelyn Valerie,Chase,Mackenzie,Riley,Reece, Hadyn, Lily, Grace.